The 10'7″ Windsurf is a windsurfing board that you can paddle, delivering authentic windsurfing with inflatable versatility.
Windsurfing on an inflatable board isn't a compromise – it's a revelation. The 10'7″ Windsurf combines the benefits of an inflatable SUP with all the technical elements of a windsurf board. Thanks to the specifically designed Sure-Fin dagger board system, which slots through the centre of the board, provides unrivalled stability, increased tracking and more lateral control.
This is a board with all the practical benefits of an inflatable SUP that's also designed specifically with beginner windsurfers in mind, but can make a great coastal cruiser for more experienced riders. To get the best out of your 10'7″ Windsurf, partner it with one of the Ride Rigs, which deliver quality, performance and simplicity.
The deck pad has been designed to help aid in teaching windsurfing, assisting the rider to know where to stand as well as featuring a diamond cut, Red embossed finish to seal the deck pad and offer ultimate grip and feel. The carry handles have also been moved to the rails so not to get in the way of the rider as well as having front and back carry handles to make launching and landing easier.

Specifications:
Length: 10'7" = 323 cm 
Width: 33"=  84cm
Thickness: 120mm, 4.7 inches
Volume: 296 liter
Weight: 9,5 kg board, 13,6 kg with backpack and pump
Max payload: 265 lbs/120 kg
Warranty: 1 year, 2 years with product registration

The package comes with the next items: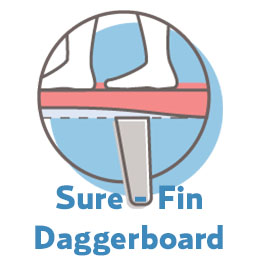 Do you need anything else?
When you also need a paddle and/or a leash, please check the packagedealoptions below for more discount.
If you prefer an other paddle or leash, please contact us for the possibilities.

Videoimpression Red Paddle Windsurf/SUP range: